"The show overall is diverse. The pieces we have chosen, in our opinion, best reflect the prospectus of being re-purposed or recycled materials. They depict a unique vision and message from each artist based upon the show's theme, healing the earth. Congratulations to all the artists that contributed to this show. The pieces we chose in our opinion took more risks, pushed the envelope, and made more of a personal statement with media manipulation."
JUDGES - Deveta Glen & Brenda Beard-Bostian ​
Powered by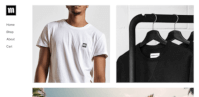 Create your own unique website with customizable templates.